Let's begin our preparations for PlantekaFest Spring Edition.. 🙂 One of our workshop themes for this year is going to be seeds and how to make seed bombs. So with that in mind, I want to share with you a little about Seed Banks, so you can create one and grow your own plants.
Seed banks are a collection of seeds which you have dried and stored, ready to plant and grow when the time is right – season, temperature, or if you need some plant therapy. Think about those times where you ate the best tomato or the most delicious strawberry; well by collecting those seeds as and when it happens, you can recreate that feeling all over again.
Key points to create your seed bank:
Be selective on what you want to store – I love the idea of having hundreds of different seeds for so so many plants, however, it may not be practical afterall. Both because of the space (and organisation) you need to label, store, and remember all of them. From my experience it may not be practical to keep a seed as you may not have the space to plant it. For example, a Fig seed will grow into a huge tree, and if like me, living in a small space in Barcelona, it will probably need more space than you have to grow.
Be organised – label all of your seeds with a name of the plant, and the date which you harvested the seeds. Important when you have a well developed bank, because many of the seeds look the same. I have found that the best storage and labeling method is to use small, air-tight bags. This way it is possible to have them sealed from the air, I can see them, and it is possible to write in permanent marker which plants they are.
Know how to store your seeds – some seeds will naturally germinate if exposed to light or increased temperatures, you don't want this if you intend to store them for a season or two. Three steps to ensure that it doesn't happen:

Ensure that all the seeds are dry before storing.
Store them in an air-tight bag.
And finally, store them in a tin (allows for no light, and a temperature controlled environment). This will ensure that your seeds will have a long shelf-life.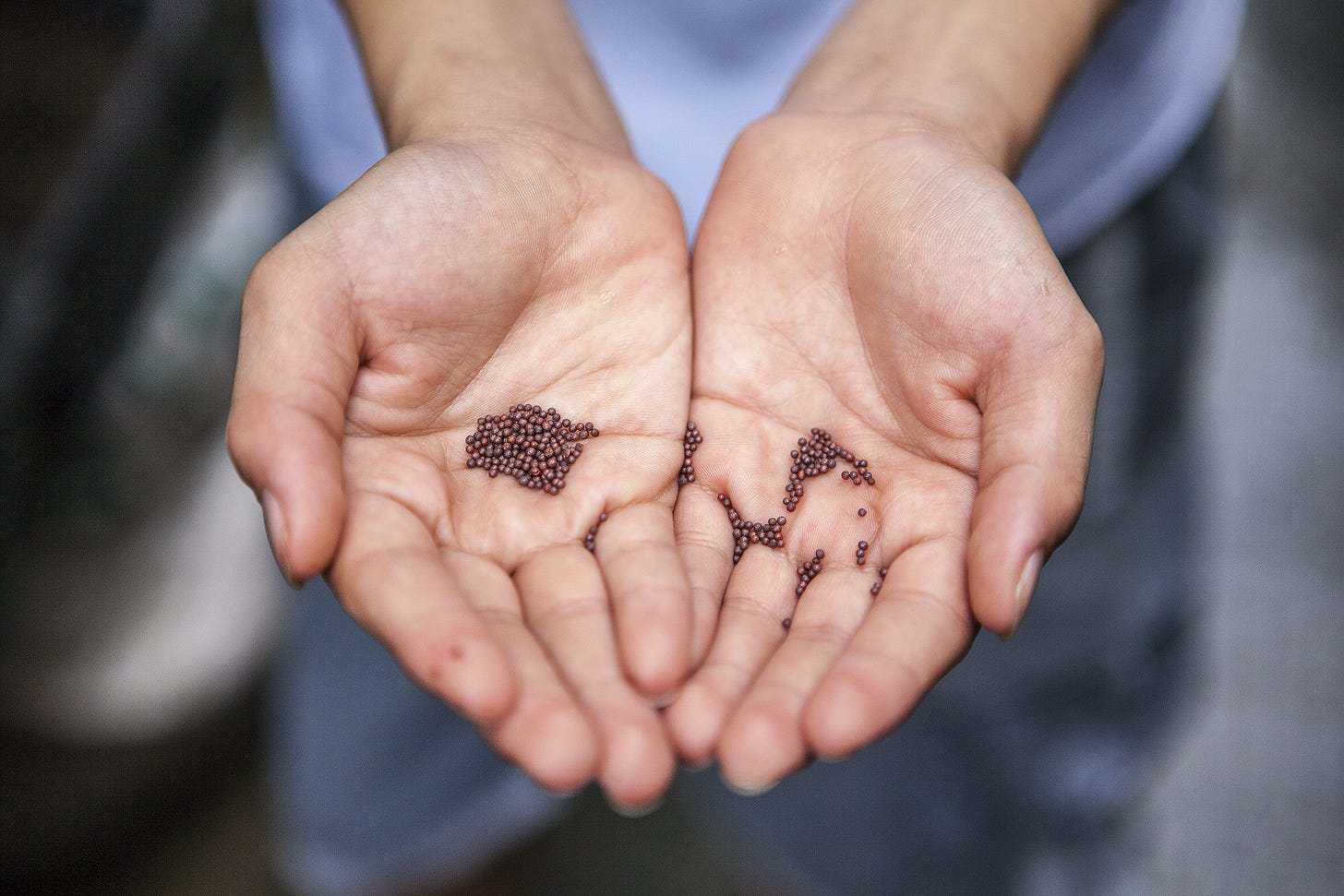 A basic how to guide, so you can create your own seed bank:
Choose your vegetable, legume, or little houseplant seed. This for me is usually done by a taste test (though not for my houseplants). I would recommend researching how to harvest seeds from your houseplants, this can be a complicated and unique process for each of them.
Remove, wash, and dry your chosen seeds. Depending on the plant or seed you are removing, it will have to be done more delicately or not. Wash the seeds clean of any plant material, you can use a sieve or a bowl full of water. Once cleaned, dry thoroughly with tissue paper.
Place into a small bag, separated by plants, and even species.
Label your seeds, with name of plant, and date stored.
Place in a dark, dry environment to be stored until ready for use.
Repeat as many times as you like until you have a fully stocked seed bank!
I enjoy collecting a variety of wild, and native species to Catalunya, to store and preserve them. When I go on my nature walks, I always take a little handful of these native plants so I can scatter them as I walk. Please take note, only do this wild sowing of seeds if the plants are native to the ecosystem. We do not want new plants out-competing the native plants and altering the ecosystem.
I hope this has been informative for you all, and that you feel some inspiration to create your own seed banks and grow your own plants. If you do, please share it with us!
Plant love,
Will @Planteka Community